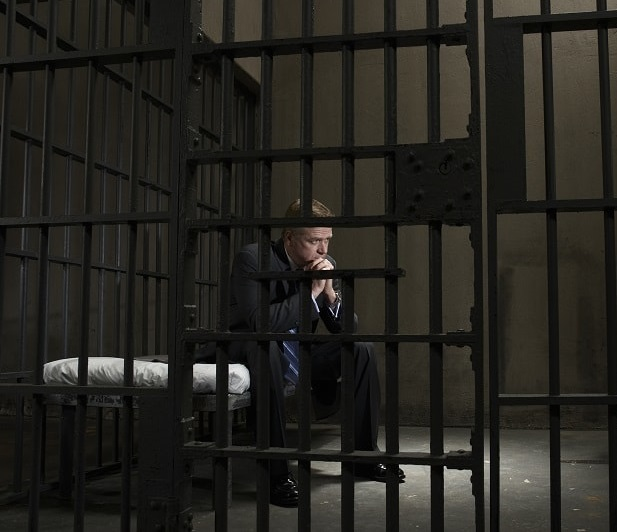 When a position in the military or with a federal agency requires a security clearance, the process for obtaining clearance begins by filling out Standard Form 86, also referred to as SF-86 or E-QIP.
When completing this questionnaire, which asks you to divulge information about your background and history, as well as provide references who can speak to your character, it may be tempting to omit or lie about certain things.
Did you steal from a store years ago or use drugs? Who's going to know if you simply leave that part out when applying for a security clearance? The answer is that plenty of people can find out, namely your security clearance investigator, whose job it is to root out the truth about your character and background before clearance can be granted.
Before you lie on your SF-86, you may want to pause and read the following, as harsh penalties may await you if you leave out any security clearance red flags on your way to obtaining a clearance for the position in question.
What Happens if You Lie on the SF-86?
If you lie, the Office of Personnel Management (OPM) will refer to U.S. Criminal Code, Title 18, Sec. 1001, which says that "whoever, in any matter within the jurisdiction of the executive, legislative, or judicial branch of the Government of the United States, knowingly and willfully – (1) falsifies, conceals, or covers up by any trick, scheme, or device a material fact; (2) makes any materially false, fictitious, or fraudulent statement or representation; or (3) makes or uses any false writing or document knowing the same to contain any materially false, fictitious, or fraudulent statement or entry; shall be fined under this title, imprisoned not more than 5 years…"
That's right. If you lie on the SF-86, you could face fines and/or up-to five years in prison.
Even if you omit information, that information could be discovered and would be perceived the same as lying. The truth will set you free is an expression that is all too apt here.
Hiding Drug Use? Don't Do It!
Many security clearance applicants become tempted to hide former drug use, such as the fact that they smoked marijuana or abused prescription pills, perhaps back in college.
While this seems like a minor issue, since marijuana is legal in quite a few states as of this writing, the drug is still considered illegal federally. This means that all drug use, even marijuana, needs to be reported in full.
A recent case involved a Department of Energy applicant who omitted information about former drug use on the SF-86. While waiting to hear back, the applicant began to have second thoughts. He was subsequently denied clearance based on Guideline E: Personal Conduct. The applicant appealed the decision to the DOE Office of Hearings and Appeals. As part of the appeals process, the applicant was interviewed by an OPM investigator during which time he admitted freely to providing false information about his previous drug use. Apparently, the applicant had a conversation with his girlfriend, whose Adderall he'd used to study for exams before the interview occurred. During that conversation, the applicant pledged to tell the truth no matter the consequences. This ended up being a risky but wise choice, given the circumstances.
The judge approved the appeal on the basis that the applicant was so forthcoming. Had the applicant been confronted by the investigator, the outcome may have been different. Since the applicant eventually decided to be honest, the judge was lenient. The lesson is never lie, even about prior drug use, which you may feel is no big deal, but is definitely a significant matter for those in charge of determining your security clearance eligibility.
How Your SF-86 Lies & Omissions Could be Uncovered
The process for obtaining a security clearance can take around six months to complete. The first step is filling out the SF-86 form (with all truthful answers) before it goes through an investigative process initiated by the OPM or an outside agency that is contracted by the OPM.
During this process, the investigator will set up interviews with the references you provided on the form. These are usually face-to-face meetings, during which time the investigators will ask those references for two other people that know you, whereby those interviews will also be held in an in-person environment.
After the investigation is finished, your SF86 will be adjudicated, which essentially means that the questionnaire will be assessed for any problems that might make you a threat to national security. The process of adjudication is known as "the whole person concept," which takes into account the information you voluntarily submitted, the nature and seriousness of the information you presented, and the frequency of questionable conduct you may have engaged in. Investigators will also consider the motivation for your previous conduct, and the likelihood that the conduct will be repeated.
What are investigators looking for specifically? Of prime concern to security clearance administrators is personal conduct, criminal conduct, foreign preference, and drug use, to name a few.
Investigators Want to Know About Your Personal Conduct
Investigators digging into your past will want to know if you ever engaged in behavior or actions that involved questionable judgment, lack of candor, or outright dishonesty. Lying on your SF-86 is an aspect of personal conduct, and deliberately falsifying or omitting information prevents investigators from getting the full picture of who you are and how you have conducted yourself thus far.
Can You Fix a Lie on Your SF-86 Questionnaire?
Generally speaking, no. Once you have lied or omitted information on the questionnaire, the most you can hope for is outright denial. However, there may be ways to mitigate the initial omission or falsehood by correcting the omission with your security officer. But if you are investigated and found to have falsified information, the penalties will be harsh.
Even tiny lies can be discovered. For instance, DOHA Case Number 14-01234 involved a security clearance applicant who received a Statement of Reasons (SOR) that detailed security concerns regarding the applicant's personal conduct. While the applicant did tell the truth about his marijuana usage in college, he wasn't quite as forthright about the frequency. The applicant stated that he smoked marijuana three times per week while attending college. However, during his interview, the applicant told the investigator he only smoked marijuana once in his entire life. Due to this small but very consequential omission, the applicant's security clearance was quickly denied.
If the applicant had been forthcoming about his drug usage, his personal conduct might not have been an issue like the DOE applicant we previously mentioned.
And yet another case, DOHA Case Number 15-00234, the applicant admitted to smoking marijuana in college. He was forthcoming on his SF-86 and during interviews, and the drug use became a non-issue, particularly because he told investigators that he had no plans to use drugs ever again. Instead, he was motivated to maintain exemplary personal conduct for the long-term future.
Are you about to complete your SF-86 and need assistance? Did you receive a SOR or LOI and need help from a qualified Security Clearance Attorney? Call one of our attorneys at the Security Clearance Law Group to discuss your case, now serving clients nationwide.