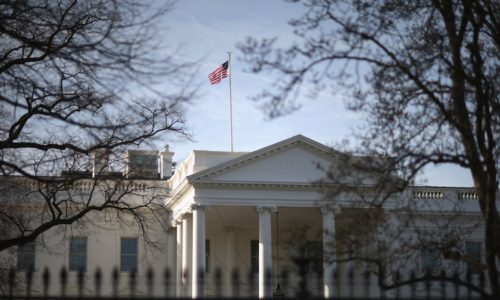 Security clearance holders are legally bound to self-report a variety of incidents, but a contractor arrested outside the White House on June 5 failed to let anyone know he was wanted for attempted first-degree murder.
The U.S. Secret Service arrested Martese Maurice Edwards, 30, after it learned of his warrant through the Criminal Justice Information System, the Daily Beast reported. The warrant was issued on May 17.
Police in Prince George's County, Maryland said Edwards shot and critically injured the boyfriend of his former girlfriend on May 3, according to the CBS affiliate in Baltimore.
At the time of his arrest, Edwards had worked through a staffing firm for the National Security Council in the Old Executive Office Building, which is in the White House complex. He worked in resources management, which handles room bookings, parking passes, and other administrative duties.
His employment began in December 2017, a National Security Council spokesperson told the Daily Beast, adding, "Mr. Edwards … did not attend classified meetings. Prior to his arrest, Mr. Edwards' access to White House facilities was revoked."
Rep. Elijah Cummings (D-MD), a ranking member of the Committee on Oversight and Government Reform, penned a letter to White House Chief of Staff Gen. John Kelly on June 7 that requested information on Edwards. It asked how Edwards was able to hold a security clearance, and how he continued to work in the White House complex for three weeks after a warrant for his arrest was issued in Prince George's County, Maryland.
The Secret Service has said it didn't learn of the arrest warrant until June 4.
Cummings asked Kelly how a man such as Edwards, who has been arrested twice before on domestic violence and assault charges, could have obtained clearance in the first place.
Although it may sound like the government dropped the ball in granting Edwards clearance, there are conditions that could mitigate concerns related to those prior arrests, said security clearance attorney Catie Young, who does not represent Edwards, but has followed the news stories about his arrest. An arrest that doesn't lead to a conviction wouldn't necessarily preclude an applicant from getting clearance.
The Adjudicative Guidelines for Determining Eligibility for Access to Classified Information are the guidelines under which security clearance is granted. The application process includes evaluating "reliable information about the person, past and present, favorable and unfavorable," in determining an applicant's eligibility.
Edwards' prior arrests would have been self-reported on his clearance application and would have raised a concern under Guideline J- Criminal Conduct in the Adjudicative Guidelines. However, court records show that although he was charged with assault in 2015, the case was dropped, The Wall Street Journal reported. A restraining order was issued against him in 2013 as part of a domestic violence case, but it was dropped after the petitioner failed to attend a court hearing.
"Given what the news has reported of those two prior incidents, Mr. Edwards never was convicted of a crime, and it sounds reasonable that he might have been granted clearance," Young said.
Cummings' letter raises questions about whether there are flaws in the system when it comes to vetting those who have faced domestic abuse allegations. He referenced the allegations against former White House Staff Secretary Robert Porter, and how updates with derogatory information about Porter seemed to have been ignored by the White House.
You can read Cummings' entire letter here.